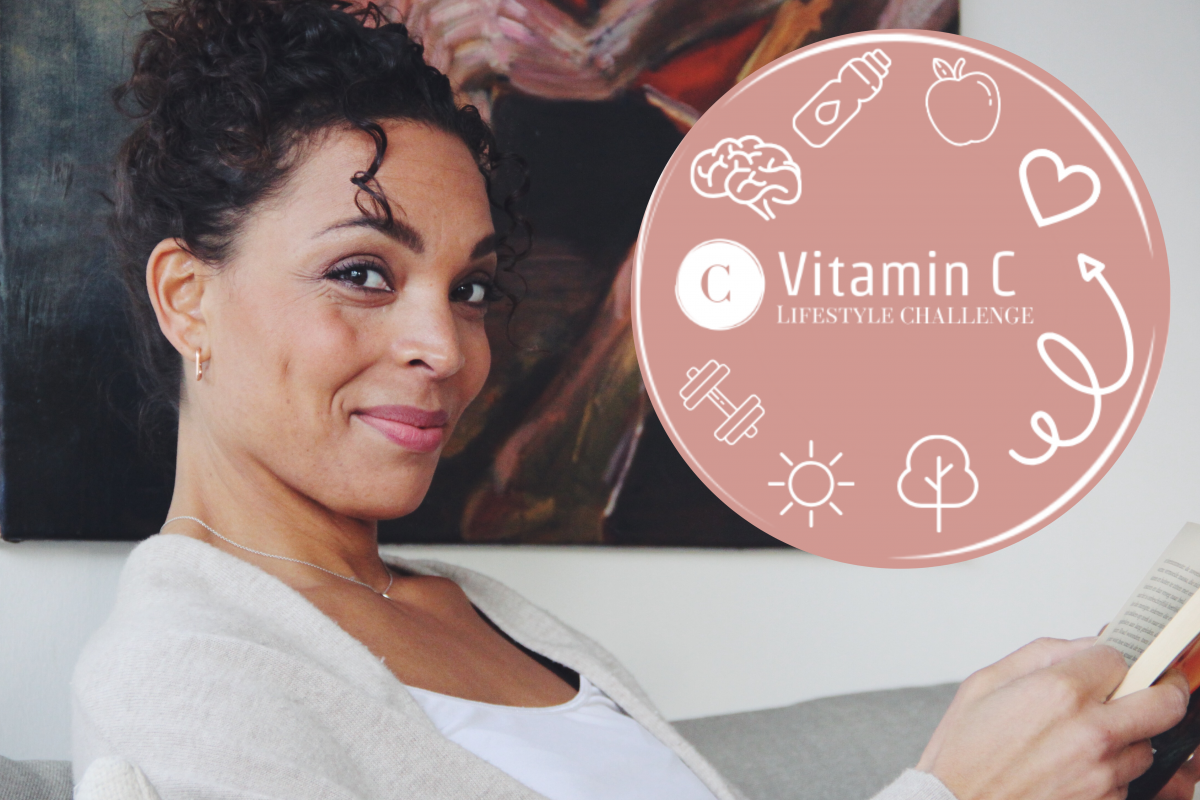 Wil jij je zelfverzekerder, fitter, energieker en positiever voelen? Wil je meer rust in je hoofd en blij zijn met jezelf?
Wil je volgend jaar met een glimlach naar jezelf in de spiegel kijken en denken: Yesss!!! Dit is 'r! Ik ben nu de persoon die ik wil zijn!
Dan ben je hier op de juiste plek! Fijn dat je er bent!
Is dit herkenbaar....
Je wilt gezonder leven, maar weet niet waar en hoe je moet beginnen
Je voelt je ongemakkelijk als je naar jezelf kijkt in de spiegel
Je wilt blijer zijn met jezelf
Je wilt je fijner voelen in je lichaam
Je mist de kennis om gezondere keuzes te maken
Je hebt een duwtje in de rug nodig, om te beginnen én vol te houden
Je bent niet op zoek naar een quick fix, maar blijvend resultaat
Je hebt interesse in (1 van) de volgende onderwerpen: voeding, bewegen, rust, mindset, zelfvertrouwen.
Als meerdere punten je aanspreken, is de Vitamin C Lifestyle Challenge écht iets voor jou!
Je bent niet de enige! Iedereen is weleens onzeker en niet blij met zichzelf. En niemand is 100% gezond bezig!!! Maar als het je belemmert in jouw dagelijks leven en het een terugkerend probleem is, is het tijd voor actie!
I know the feeling! Als voormalig professioneel danseres, was ik al elke dag bezig met mijn lichaam! Op een goede en bewuste manier, begrijp me niet verkeerd. Maar dat heb ik moeten leren! En ja, om me heen heb ik het ook vaak anders gezien! Het was niet alleen een fysieke, maar ook een mentale uitdaging. Ik moest namelijk regelmatig audities doen. Elke keer werd ik beoordeeld. Niet alleen op mijn kwaliteiten, maar ook op mijn uiterlijk! Om toch mijn droom te blijven volgen heb ik heel wat duiveltjes moeten verslaan! "Waarom zouden ze mij willen?", "Kan ik dit wel?", "Vinden ze me wel mooi genoeg?" Daardoor heb ik geleerd hoe nauw je emotionele en fysieke gesteldheid met elkaar verbonden zijn! En hoe je mindset, je eigenwaarde, een bewuste lifestyle en een gezonde balans, je sterker, energieker, positiever, rustiger en zelfverzekerder maken!
Beginnen is vaakst het moeilijkste. Daarom ben ik je vriendelijke doch licht dwingende schop onder je kont! Je cheerleader die je aanmoedigt! En degene die naar je luistert, als je er even niet uitkomt!
Ik ga je helpen om jouw gewoontes zo aan te passen dat jouw doel om een bewuste en gezonde Lifestyle te hebben, haalbaar is!
Jij kunt dit!
Het doel van de Vitamin C Lifestyle Challenge?
Om de Lifestyle te creëeren die bij jou past!!! Een Lifestyle waarin je bewust keuzes maakt, waar je je lekker bij voelt én die goed voor je zijn. Waarin je meer rust ervaart, blijer bent met jezelf en je fijner voelt in jouw lichaam!
Wil jij een gezondere en bewustere Lifestyle?
Als je een gezonde Lifestyle wilt, maar niet goed weet waar en hoe je moet beginnen, ben je hier aan het juiste adres! Naast inspiratie, motiveer ik je met praktische tips en oefeningen om stappen te zetten die ervoor zullen zorgen dat jij je lekkerder in je vel gaat voelen. Fysiek én mentaal!
Het begint met het aanpakken van je gewoontes! Je acties en je gedachtes vormen bewust en onbewust jouw gewoontes. er wordt wel gezegd dat het 21 dagen duurt om een nieuwe gewoonte aan te leren. En dat het ongeveer 90 dagen duurt om van deze gewoonte je lifestyle te maken!
Tijdens de Vitamin C Lifestyle Challenge gaan we 21 dagen aan de slag met een gewoonte die te maken heeft met voeding, beweging en rust. maar ook met de duiveltjes op je schouder, die jou dingen influisteren als: " Je kan het toch niet"," Je houdt het toch weer niet vol" of " Zo ben je nou eenmaal"
En ik vertel jou het geheim, waarom het je WEL gaat lukken om je doel te bereiken!
VITAMIN C LIFESTYLE CHALLENGE 
Ontdek op een laagdrempelige en toegankelijke manier hoe je stap voor stap een gezonde, bewuste Lifestyle kan creëren! Ervaar hoe leuk het kan zijn om goed voor jezelf te zorgen en bewuste keuzes te maken die helemaal goed voelen voor jou! Voel wat voor impact je mindset heeft op de keuzes die je maakt en hoe je die kan aanpassen om gezonder te gaan leven!
Ik wil graag zoveel mogelijk vrouwen helpen tijdens hun reis naar een bewuste Lifestyle! Met de Vitamin C Lifestyle Challenge help ik je met je body & mind uitdagingen, op een laagdrempelige manier, die mooie en blijvende resultaten oplevert!
Doe de challenge op jouw manier! Maak gebruik van de werkboeken, praktische tips, mindset tricks, dagelijkse inspiratie en doelgerichte oefeningen! Laat mij je motiveren en empoweren om nu écht te gaan voor een bewuste Lifestyle!!!
In de Vitamin C Lifestyle Club, mijn besloten leeromgeving, heb je toegang tot alle info. En per mail begeleid ik je om er alles uit te halen wat er in zit! Een hele laagdrempelige en makkelijke manier om zoveel waardevolle informatie, inspiratie en motivatie te krijgen. Én 1 x in de 3 weken geef ik een live Q&A, zodat je al je vragen kunt stellen.
De Vitamin C Lifestyle Challenge
21 dagen lang:
werken aan en focussen op 1 nieuwe goede gewoonte die jouw leven compleet gaat veranderen.
mij als coach
besloten online leeromgeving: De Vitamin C Lifestyle Club
Worksheets
praktische Tips & Tricks
resultaatgerichte en praktische oefeningen
Feiten & weetjes
Live Q&A (je kunt je vragen van te voren insturen of Live stellen)
Onbeperkt (zolang de challenge bestaat) toegang tot de Club inclusief alle updates

 Alles is online, vanuit het comfort van je eigen huis of ergens anders waar je een wifi verbinding hebt, te bekijken. Zo kun je inloggen in de besloten leeromgeving: de Vitamin C Lifestyle Club, wanneer en hoe vaak je wilt.  
Bonus:
een Challenge Take Over door een andere expert of ervaringsdeskundige die nog meer de diepte ingaat op het thema.
De Vitamin C Lifestyle Planner
Je wordt als eerste op de hoogte gehouden van nieuwe acties en (live) evenementen, zodat je altijd verzekerd bent van een plekje voor de Early Bird prijs.
21% korting op de Lifestyle Boost Sessie of het 1-op-1 coach traject!!!!
Investering:
 €39 incl BTW